On – 08 Aug, 2017 By Jon Krawczynski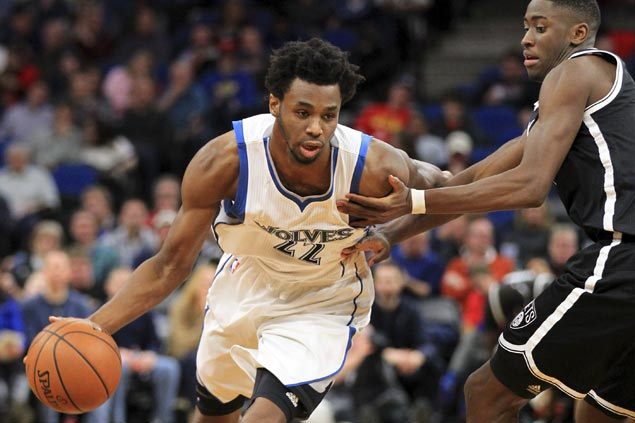 MANKATO, Minn. — Minnesota Timberwolves owner Glen Taylor said on Monday (Tuesday, Manila time) that he is ready to commit nearly $150 million to Andrew Wiggins with a max-level extension of his rookie contract.
But before he does so, Taylor wants to sit down face-to-face with Wiggins to hear the former No. 1 overall pick commit to the franchise in a similar fashion.
Wiggins' scoring numbers have improved in each of his first three seasons. He averaged 23.6 points per game and shot 35.6 percent from three-point range last season, more than five percent better than his previous season.
But the Wolves have not made the playoffs since 2004, and it's clear that when Taylor decides to give a contract of this magnitude after adding Jimmy Butler via trade and veterans Taj Gibson and Jamal Crawford in free agency, he is expecting it to pay off quickly.
"To me, by making this offer, I'm speculating that his contribution to the team will be more in the future," Taylor told The Associated Press. "We've got to be better. He can't be paid just for what he's doing today. He's got to be better.
"So when you're talking about negotiations on his part, I'm already extending to him that I'm willing to meet the max. But there are some things that I need out of him, and that is the commitment to be a better player than you are today."
Taylor spoke with Wiggins when the two attended assistant coach Ryan Saunders' wedding in July, but the owner is looking for a little more substance before they close the deal. Wiggins' agent, Billy Duffy of BDA Sports, is expected to arrive in town next week to continue the discussions, and a five-year, $148 million extension could happen soon after.
Taylor said he wants to hear a commitment from Wiggins to work out often in the Twin Cities in the summer and improve all areas of his game to fulfill the obligations that come with a max deal.
"I just think it's important," Taylor said. "If a guy is a real star and he really cares about it, which I think he does, I think it's a commitment. I'm not sure that he wouldn't do it anyway. But I think that's part of the negotiations."
Both Taylor and coach Tom Thibodeau are counting on Wiggins to make big leaps as a defender, ball-handler and perimeter shooter as they prepare to lavish the 22-year-old with the kind of money that few others in his draft class have a chance of making on their second contracts.
For all of the big scoring nights he has enjoyed early in his career, he has been much more inconsistent in many other areas of his game, including defense and rebounding.
"I think it's important. I don't know what else you can do but look at the person face-to-face and trust that he will follow through," Taylor said. "He seems like a very good person. He seems to have the ability and so the only thing it would be is for some reason he didn't work hard enough to obtain the skill sets. That's what you're asking him to commit to."
Ever since he was a one-and-done star at Kansas, Wiggins has heard questions about his motivation. With a laid-back personality and an aversion to media attention, Wiggins does not fit the typical mold of a brash, outspoken star. But his athleticism and scoring acumen is unquestioned, and Taylor and Thibodeau are so high on his potential that they have to this point squashed any suggestion that Wiggins could be traded to Cleveland for disgruntled All-Star Kyrie Irving.
Taylor did not comment on the Irving rumors on Monday, but did say that he envisions Wiggins and Karl-Anthony Towns forming the kind of dynamic, youthful tandem — with Butler as the veteran leader — that this franchise needs to compete in the powerful Western Conference.
"I just think they appear to have exceptional skills," Taylor said of Wiggins and Towns. "You don't have chances to get players like that very often. So you better take advantage of it while you can."
Source: http://www.spin.ph/basketball/nba/news/wolves-owner-wants-andrew-wiggins-to-improve-to-earn-max-deal-mum-on-kyrie-irving-trade-rumors